Daily, from 06/08/2020 to 06/11/2020, 9:00 a - 7:00 p
Vacation Bible School 2020 (Online)
Life is Rocky, but Jesus' POWER Pulls Us Through!
Hop Aboard our Rocky Railway VBS Online Experience June 8-11!
Free 4-Day Streamed VBS
June 8-11 at 9:00a and repeating

at

11:00a, 1:00p, 3:00p, and 6:00p each day

Fun, Exciting Bible Lessons, Worship, and Activities!
Specific Preschool & Elementary Programs
Free Activity Bags for each child (register online, while supplies last, pick up at Cottonwood or download activities at home).
Stream VBS On Cottonwood Creek TV
Trouble streaming? Watch On YouTube.
Download VBS Flyer To Share With Neighbors & Friends
Registration
Registration is open. Invite your Family, Friends, and Neighbors to come aboard with us!
How can the church serve?
Pray that God will reach kids and families with the gospel.
Invite and share with neighbors, family, and friends digitally. Or come by and grab a flier.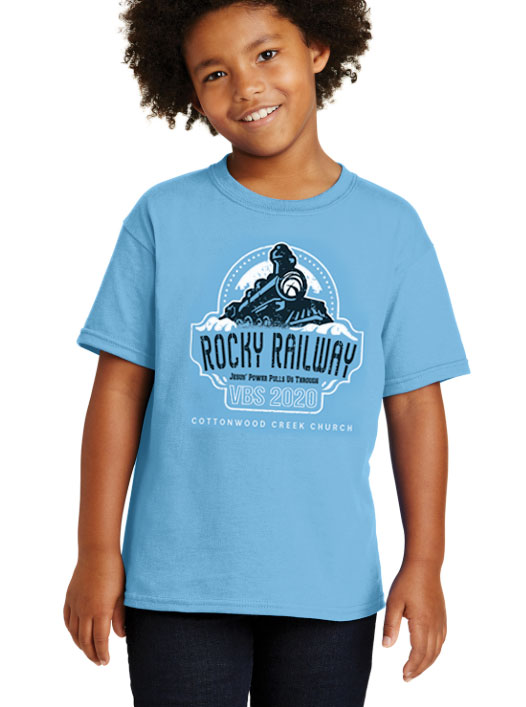 Activity Bags & T-Shirts
For those that registered, activity bags and purchased t-shirts will be available for pick up during the following days and hours at Cottonwood Creek Church, 1015 Sam Rayburn Tollway, Allen, TX 75013.
Wednesday, June 3, 2020: 9:00a -12:00p & 3:00p-6:00p
Thursday, June 4, 2020: 9:00a -12:00p & 3:00p-6:00p
Friday, June 5, 2020: 9:00a -12:00p & 3:00p-6:00p
Saturday, June 6, 2020: 9:00a -12:00p

Fun with the Son (FWTS) Challenge
Our goal is to raise $8,000 for FWTS, which helps provide school supplies to Vega Elementary students in McKinney, TX. If reached during VBS, Pastors John Mark Caton and Dave Marsh will both receive a pie in the face the last day of VBS. Online donations must be designated for "Missions & Giving" at this link.