Dear Bride and Groom,
Congratulations on your engagement! We are so excited to assist you in coordinating your wedding and making your day as beautiful and memorable as we can. As a staff here at Cottonwood Creek Church, we will do everything we can to make your wedding ceremony a worshipful experience for you and your guests. Download the Chapel Guide to learn more about having your big day at Cottonwood Creek's Chapel.

The Chapel seats up to 300 people. Our seating includes beautiful, wooden chairs with cushions.

The Chapel may be decorated with flowers and flameless candles following the instructions laid out in the decoration guidelines (page 13). All decorations must be approved by the Wedding Coordinator and Facilities Director. The wedding party is responsible for removing all decorations prior to leaving the building.

A member of the Cottonwood Creek Church AV Team will run the AV Booth in the Chapel during weddings and events. See page 11 for more information about services provided by the AV Team.

There are three available time slots for your wedding ceremony. The earliest a ceremony can begin is 1.5 hours after your time slot begins, and the latest a ceremony can begin is 1.5 hours before your time slot ends.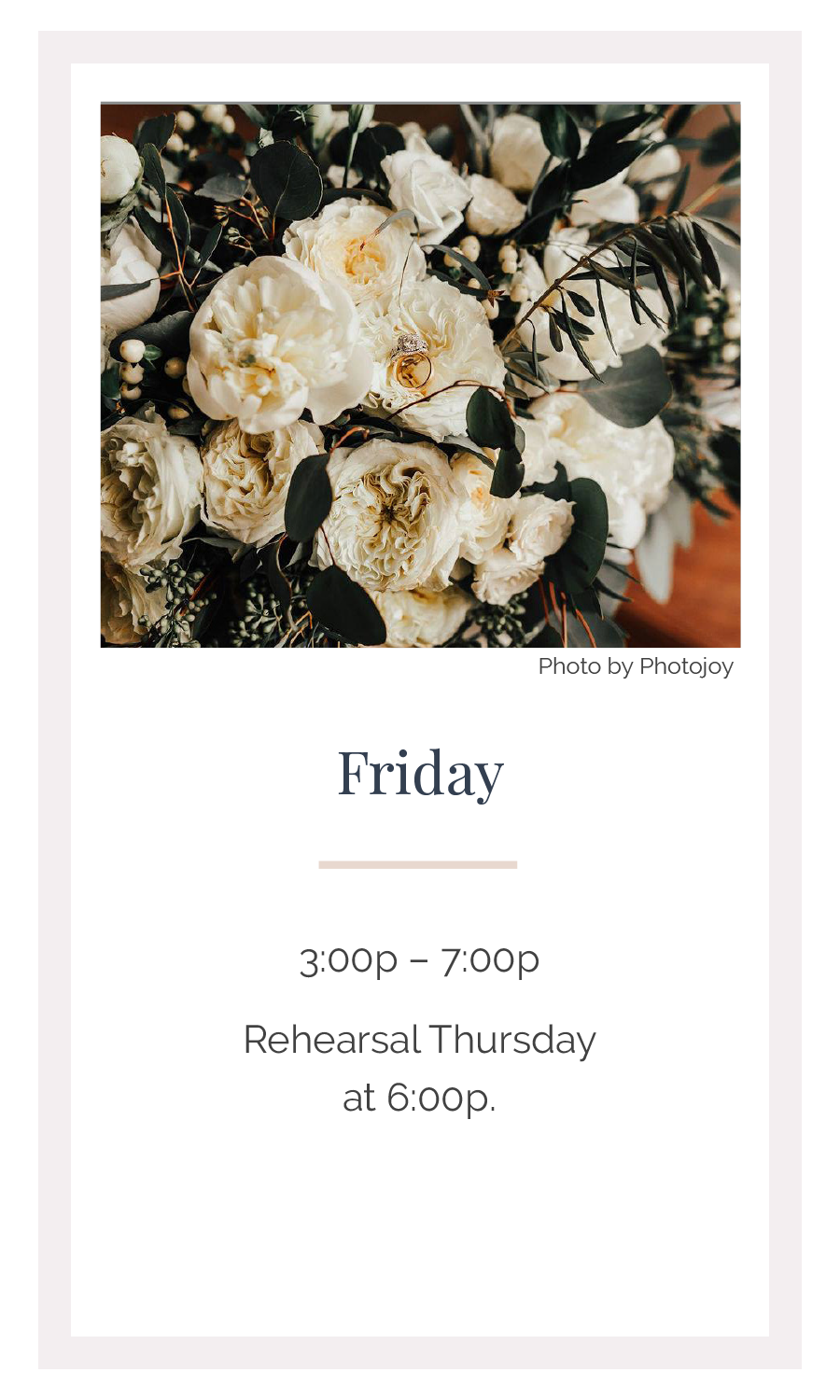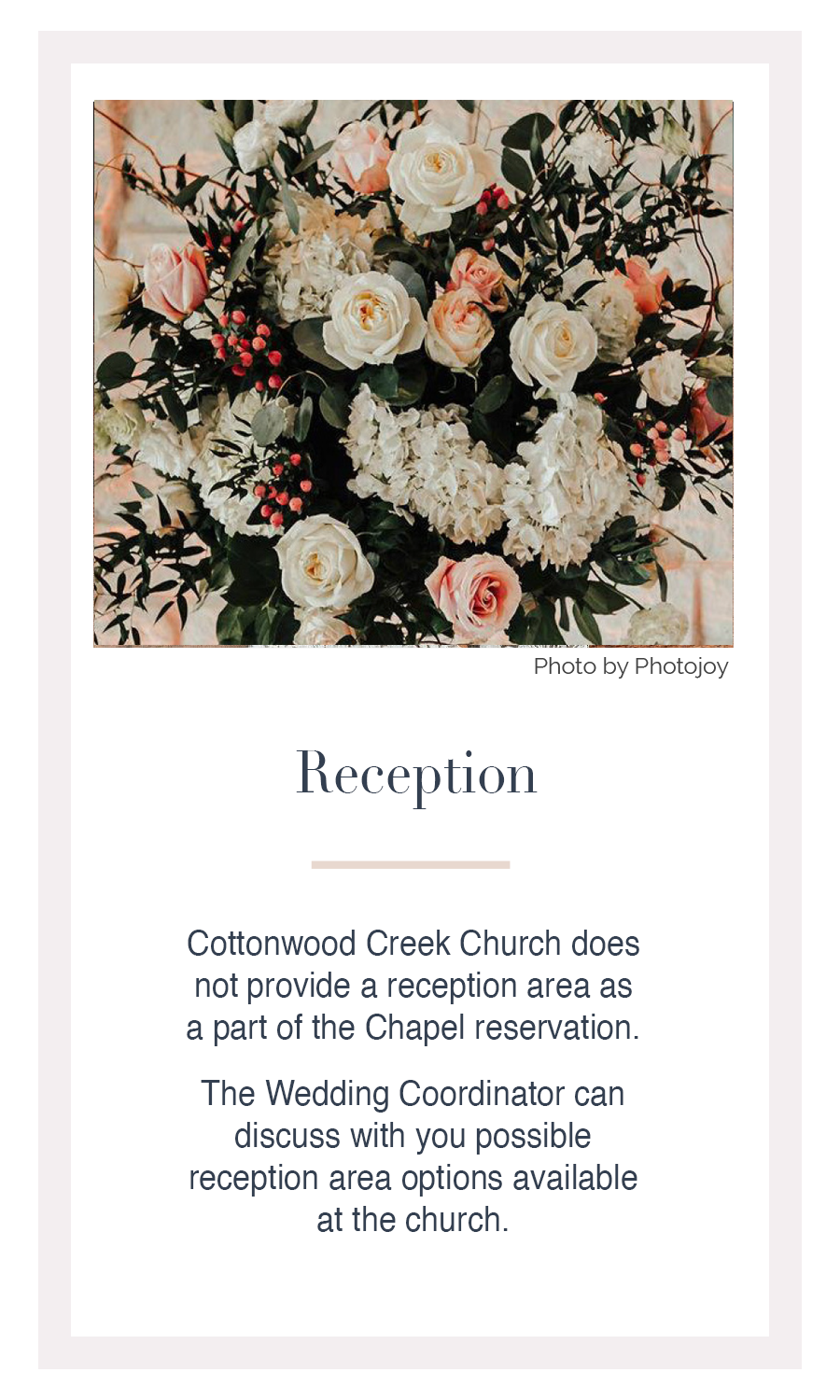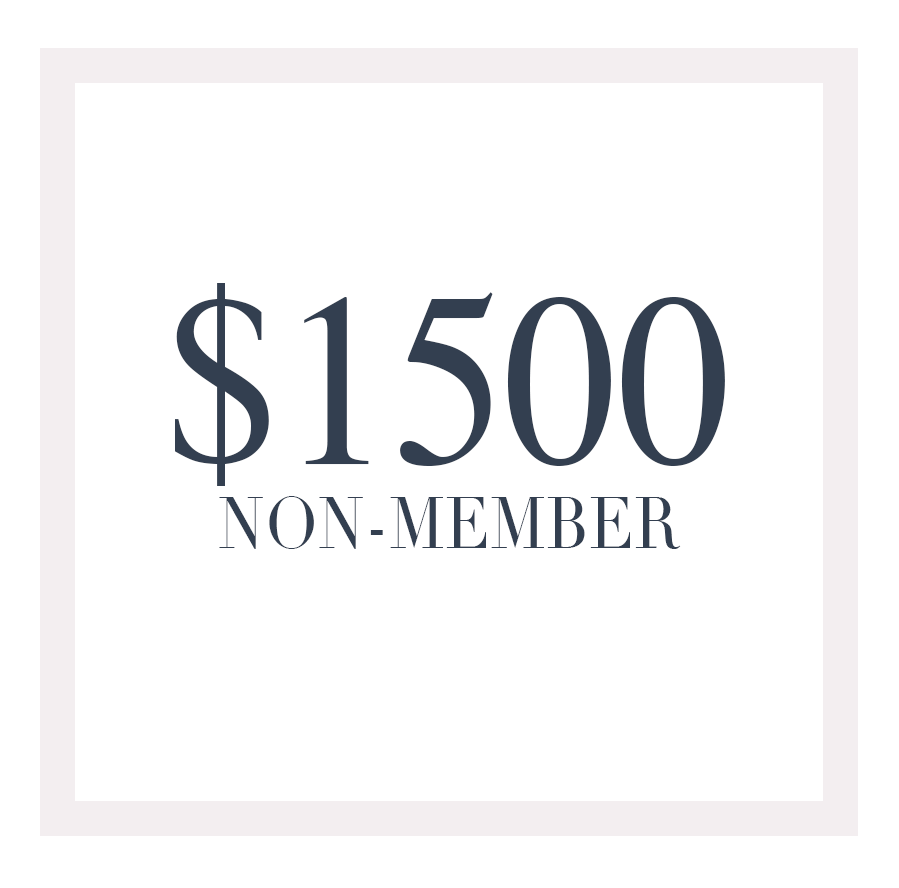 There is no deposit option for the Chapel. Payments must be made in full with the completion of the wedding application. Wedding dates will not be secured until full payment has been made. Fees include an AV Tech Operator and Wedding Coordinator.
Cancellation Policy: Because of the expected demand for weddings, we do not offer a refund to cancellations less than 6 months before the wedding date. It is imperative that you are confident with your wedding date at the time of payment.

Show Your Interest - Interested in using the Chapel at Cottonwood Creek Church for your special day? The first step is filling out the interest form. Once you have submitted the interest form, the Wedding Coordinator will check availability for the dates you requested.

Contact with Wedding Coordinator - After submitting your interest form, the Wedding Coordinator will contact you for further scheduling. The Wedding Coordinator will assist you in selecting the date and time for your ceremony, as well as a time to meet in person. Every effort will be made to schedule your wedding on the date you desire. However, due to a large number of weddings and church events, we suggest that you have several options in mind. An in-person meeting will be scheduled with the Wedding Coordinator to discuss prices, dates, schedule, and answer any questions you may have.
Wedding Application - After you meet with the Wedding Coordinator and solidify a date, you will fill out a wedding application. Submit the application with your full payment to secure your reservation. Your wedding date will not be reserved until the full payment for the Chapel is made. The application should not be submitted until your date has been confirmed by the Wedding Coordinator.
Final Appointment - A second appointment is needed with the Wedding Coordinator to discuss specific details relating to your ceremony at Cottonwood Creek Church. The Wedding Coordinator will assist you with the following: Calendar Reservations Facility Reservations Security Deposits/Payments/Fees Video/Audio/Technical Needs At this appointment, important information relating to church policies and guidelines and vendor information will be explained. The Wedding Coordinator will answer any questions you may have and address any special needs concerning your wedding day.