Allen, Texas – Cancer. A diagnosis that may seem unlikely, but a reality 40% of Americans will face. During the month of October, Breast Cancer Awareness Month, the Chapel at Cottonwood Creek is illuminated pink to show support for those battling cancer. This support extends inside the building, where the Cancer Care Ministry works to provide resources to cancer warriors and their families.
Year-round, the Cottonwood Creek Cancer Care Ministry provides support for those struggling with cancer through a team of dedicated volunteers. This support includes inspirational cards and prayer, as well as a care bag filled with a prayer-blessed blanket, inspirational books, an encouraging CD, information on what cancer can't do and a mask.
Cancer Care Ministry Director Dave Williams expressed the importance of supporting those battling cancer. "A cancer diagnosis can make you feel isolated, frightened… alone. But you are not alone. God is there with you, first and always. Cottonwood Creek's Cancer Care Ministry's mission is to offer God's hope and love for those facing the challenges of cancer," said Williams.
One book included in the care bag is Cancer – Now What?, by Kenneth Haugk Ph.D., which includes invaluable resources and advice on managing treatment and relating to family and friends after a cancer diagnosis. Some of the topics in this book include: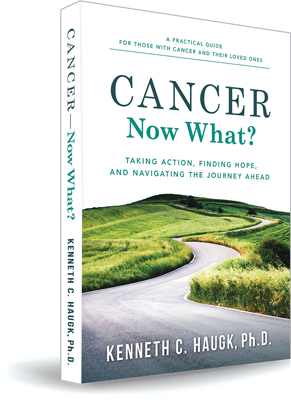 How to talk to others about your diagnosis.
Healthy ways to manage the variety of emotions that come with a cancer diagnosis.
Where you can find information and questions you can ask your doctor to be more informed.
Understanding the next steps in your treatment plan.
Caring for yourself and defining yourself apart from cancer.
Advice on finding counseling and additional support.
Becoming an advocate for other cancer warriors.
"Our volunteers are survivors who faced their cancer journey with faith and want to make a difference in the lives of others. It is our desire to honestly and sincerely practice the second commandment principle "Love Your Neighbor As Yourself" so that No One Faces Cancer Alone," said Williams.
For anyone looking to get involved in the effort to support cancer warriors, the Cancer Care Ministry has opportunities for both volunteers and donations to their programs. If you would like to become a volunteer in the Cancer Care Ministry, please email Dave Williams at cancersupport@cottonwoodcreek.org.
If you or someone you know has recently been diagnosed or is currently struggling with cancer, get connected with the Cancer Care Ministry by texting CANCER to 77978.
No matter who you are or where you come from, Cottonwood Creek has a place and a ministry for you and your entire family.  Our desire is to do whatever it takes to bring the life-changing message of the Gospel of Jesus Christ to our community, our country and, ultimately, our world. For more information and worship times visit cottonwoodcreek.org or call 972.359.7777