In this time of COVID-19, many events have been canceled to maintain the community's health and safety. Cottonwood Creek Church's annual event, Fun With The Son, was no exception. This year, rather than hosting a carnival-like event with vision screenings, haircuts and other entertainment, they achieved a similar goal in a fun, new way. 
The event began with the collection of school supplies. Through the generosity of their members, enough donations and supplies to fill 1000 bags for students were collected. 
"The people of Cottonwood Creek inspire, give and lead, not with words, but with their actions," said Missions/Evangelism Pastor, Dr. Justin Hillhouse.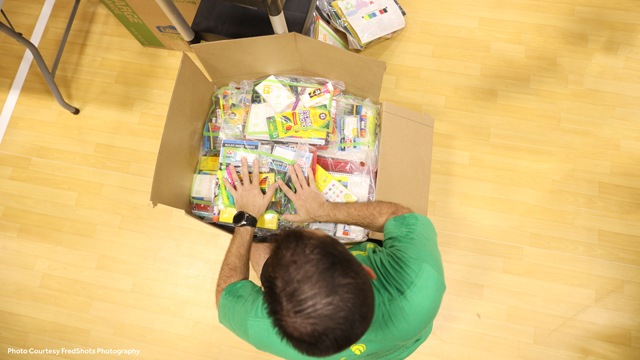 The Missions Ministry team and their volunteers at Cottonwood Creek held their annual Pack Attack events on Friday, July 24 and Saturday, July 25. Thirty-five volunteers set up school supply assembly lines Friday evening. On Saturday, 65 volunteers showed up and packed 1000 school supply bags in only 50 minutes.
"In spite of all the obstacles, our people have chosen to go the extra mile to ensure that those who are in need do not go without," said Hillhouse. "It is a privilege to work and serve alongside them."
This year, rather than one large event, Fun With The Son became 85+ mini events as their FWTS Delivery Team hit the road and delivered school supply bags and the Gospel to the doors of the English-speaking families who registered.
To ensure the Gospel would be heard by Spanish-speaking families, Cottonwood Creek teamed up with Iglesia del Nazareno Renovación in Downtown McKinney to help translate and distribute the supplies. This partnership allowed the team to distribute via a drive-thru, an additional 300 school supply bags, food boxes and Bibles.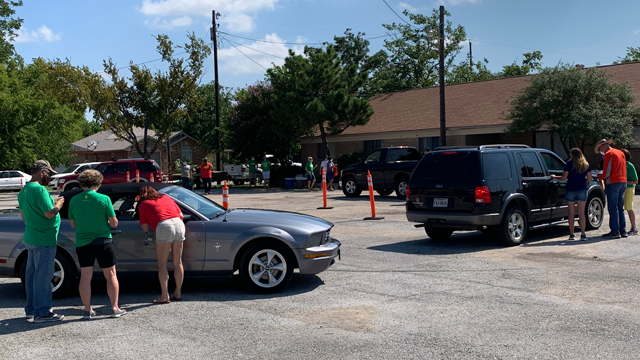 "We were still able to hand out supplies and some food provisions to families in need," said Gene Sera, Cottonwood Creek Member. "The most rewarding part of Saturday morning had to be just socializing with the parishioners that came to receive the blessings from this church." 
In total, more than 600 school supply bags were distributed to those registered through Vega and Webb Elementary. 
But they are not done! Their team will continue to distribute the remaining supplies to those in need in the community.